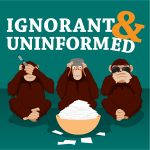 Do not listen to this while eating. Seriously. It's all about the process we would undertake in order to determine who we'd eat first in an extreme survival situation. But Captain parameters wants to know: are we alone? Do we have others to care for? Is there a Sasquatch we can clean and eat? Benji is marbled like a fine rib-eye. Max would be more gamey than delicious and Hollywood smells like a slightly rancid fruit cup. Remember :
1) Eat the hippies and yoga-people first. 2) Eat the diabetics next. They're the sweetest. 3) It's always easier to find the reasons you're looking for. — It's the line between sentiment and survival, reasons you shouldn't eat your own arm, and many, many disturbing thoughts. I and U. We certainly words good.
***
Topic – In a survival situation, what would your cannibalization process be?
From – Paul Cholewa