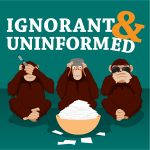 This week we take it down a notch. So, if it's laughs you're looking for, maybe this isn't the best one for you. But, if you're interested in hearing some honest and interesting conversation about regret, sadness, and loss – then tune in. Benji's out this week but good ol' Jay Seevers sits in, binge reads, and sells himself short. Hollywood misses who he used to be and Max peaked in 2nd grade. Remember :
1) The future-you is a stranger. 2) Grown-up life can be hard for class clowns. 3) We are not wired to remember the ordinary. — It's the dual essence of regret, the difference between friends and co-workers, the certainty of youth, the importance of sleep, the downside of the Internet, and the relationship between memory and wonder. I and U. We're big in Nest Egg, IA
***
Topic – Nostalgia – why does it hurt so fucking bad?
From – Phil Roerbacher