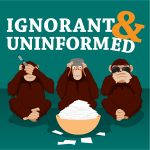 Benji's out being a dad, but it's ok because Jay Seevers fills in. And boy does he. This week Felipe Nunez wants us to discuss what superpowers various religious figures might have. So we did. But since heroes need villains, we did that too. Hollywood uses words without knowing what they mean. Max refuses to take sides and Jay is naked. Remember :
1) If religions aren't busy fighting each other – then who do they fight? 2) Bad guys have more fun. 3) Buddha's superpower is bulimia — It's faith-shapeshifting Jesus, Ninja-assassin Muhammad, and battle koan Confucius versus Stephan Hawkking, Copernicus, and Darwin's Dr. Moreau army of monsters this week on I and U. Punch a baby.
***
Topic – Which religious figures, in all the world's religions, would make good super heroes or villains?
From – Felipe Nunez