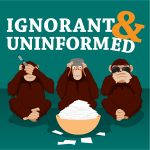 Whats the difference between robots and machines? What would you do with a Holodeck? How do cars work? Is it creepy that Rosie from the Jetsons uses another robot to make all the food for the family? Scientist, Jonah Schein, thinks so. Hollywood wants more power. Max is curious about spinach's soul. And Benji's holodeck would be full of delicate food and resilient women. Remember :
1) The internet has made us all impatient. 2) People have been using people since forever. 3) You've seen more different pairs of boobs than any of your ancestors. — It's the future of fast food, the reality of Star Trek replicators, how dark the dark ages actually were, using lamps to super charge your computer, and Captain Picard steals your juicy steak. I and U. We're fresh and hip like mid-90s white guy rap.
***
Topic – Does a robot using another robot to make stuff creep you out?
From – Jonah Schein