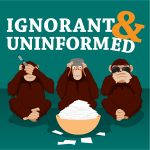 Something special in honor of our 200th EpiDose…amazing, right? Our good friend, John Schorling, felt like facilitating a deep and meaningful conversation about race. Too bad this is Ignorant and Uninformed. Benji is self-shaming. Hollywood goes all metal. Max doesn't want your gentile-guilt. And Jesus is a baltimore cop. Huh? :
1) Ignorance is not the answer. 2) We are so much more similar than we are different. 3) Take a moment and actually think about how much further along the human race could be if we all just worked together.– It's the relationship between stereotypes, jealousy, and striving. Unnecessary qualifiers. Racist parenting techniques. And some weird asian cuisine. I and U. We're gonna start sending hugs instead of t-shirts…
***
Topic – Why do Jews like money so much?
From – John Schorling