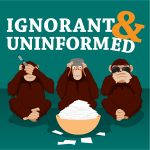 Put away your targeting computers and drop your blast shields – this week it's all about Star Wars. Benji is out greasin' them wheels but the always insightful, Jay Seevers, is sitting in. Hollywood is a ring-theory-obsessed-fanboy. And all Max wants is Lando, space aids, and some originality. Remember… :
1) Judging trilogies before they're finished is dangerous. 2) Managing expectations is key to happiness. 3) This epidose is full of spoilers. — It's the constants of the universe, the space of space, anonymity and evil, Rey's lineage, what it means to be good, and the application process at the imperial academy. I and U. What's left to lose? Everything.
***
Topic – Star Wars: Is there anything left for them to fuck up?
From – Jonah Schein