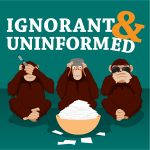 Are you a boxers or briefs kinda guy? A granny panties or thong kinda gal? Or, do you prefer to let it all hang out commando style? For some reason Rachel Zukrow wants to know. Benji's a trend setter, Jesus gives Max support, and Hollywood is on team Jockey. Remember :
1) Showing excitement and enthusiasm means more to guys than lacy underthings. 2) The best lingerie you can buy is making your girl feel sexy. 3) Tighty whities are terrible. — It's the taste of corduroy, the irony of fancy wrapping paper, and disturbing questions about sleeping naked. I and U. We're huge in Portugal.
***
Topic – Boxers or briefs? Granny panties or thongs? Commando?
From – Dr. Zooks