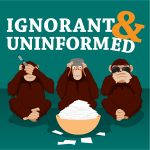 Rambo? Jurassic Park? Return of the Jedi? The Holiday? Which movie made the biggest impact on you? Kevin Alan wants to know…we think? The Lego Movie made Benji feel like a kid again. Max got chills from seeing the Star Wars preview on the big screen. The Lord of The Rings made Hollywood out and proud. Remember :
1) The Lion King is Hamlet. 2) Book are different than movies. 3) Special effects that used to look good probably don't now. — It's the logistics of sexual pranks in theaters, good and bad college dates, and the late 90s ninja craze. I and U. We're counting on you, JJ.
***
Topic – What is the best movie experience you remember having? Why did that movie have that effect?
From – Kevin Alan