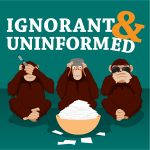 World traveling photographer and loyal listener, Audrey Phillips, wants to know what we would always do once, sometimes twice, and never three times. Hollywood thinks it's a riddle. Max gives bad advice. And Benji is effortlessly a wild card. Remember :
1) No one expects a Spanish Inquisition. 2) Raise your kids with a ready-made rebellion. 3) Dogs and kids can see through everybody. — It's about family traditions, the hazards of ego stroking, and using Showtime as an anthropological resource. I and U. "I'm gonna wife you so hard."
***
Topic – What would you always do once, sometimes twice, but never three times?
From – Tawdry Phillips