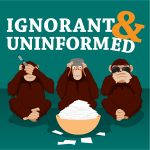 This week's show is about one of life's big questions: are funeral-erections inappropriate? Wait, not that one. Does everything happen for a reason? It's free will versus fate. Two concepts enter and only one survives. Unless you're Max. Did you know that God loves Benji? Or that Hollywood has beautiful wings? Remember :
1) Humans perceive order in randomness. 2) Near death isn't the same thing as dying. 3) Having a positive attitude will lead to having a better day. — It's the illusion of political participation, Buzzfeed quizzes, and the meaning of de ja vu. I and U. Is there something bigger than us out there or are we that thing? Boosh. Mind Blown.
***
Topic – Does everything happen for a reason?
From – Lauren Rainen