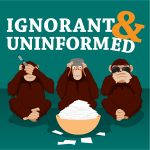 Jay Seevers stops back by Consensual Studios to fight the good fight and look for his hands. And it's a good thing to, because Bradley Baker (shout out NOLA) wants us to discuss the state of popular entertainment. Too bad we end up talking politics. Benji blames the media. Hollywood is up in arms about the Presidential race and Max is bored. Remember :
1) Ego and arrogance are the enemies of diplomacy. 2) The media isn't there to inform you. It's there to make money. 3) Mike Judge was right. — It's comb-overs, student counsel elections, some Bernie Sanders love, and Hitler's thoughts on Mexicans. I and U. Caitlyn Jenner isn't a hero. Wanna know why?
***
Topic – Has popular media made us more dramatic or is it our primate roots?
From – Bradley Baker