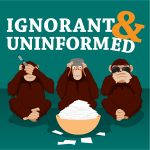 Down a host but up two guests. Hollywood is off being a midget through binoculars but luckily Jonah Schein and Rachel Zukrow are sitting in to talk about fate and death. For Benji it's all about the time frame. Max is into the mystery. Jonah asks why and Rachel is busy talking about prison and retirement. Remember :
1) Facebook exists to see failure. 2) Martha Stewart is a good example of how knowing too much can go wrong. 3) There is no omelet station in jail. — It's free will vs pre-determination, the hot mess of hedonism, and how we should all live today like it might be our last….sort of. I and U. Max was on sound. Blame him.
***
Topic – Would you want to know the date of your own death?
From – David Klein