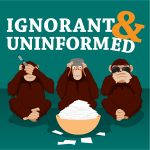 The Weather Man, Tomorrow, and Sand Bird face off thanks to Felipe Nunez. What? You've never heard of these superheroes or villains? Well, that's because we made them up. We're down host, up a Kevin, and Cho was a ho. Remember :
1) All abandoned warehouses sit on cliffs overlooking the sea. 2) New-age-hippie-junk-science has no place in Ravenclaw. 3) Willpower can only be bested by fear. — Hollywood loves creating backstories, Kevin is stifled by analysis-paralysis, and Max is a shapeshifting earth-bender. I and U. 12 parakeets can't be wrong.
***
Topic – Superpowers game!
From – Felipe Nunez