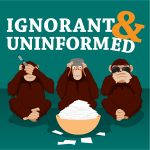 This week we are down our third-half as Benji is too busy being dad. But, the always entertaining Kevin Alan steps in to take his place. It's too bad though…because if there's one things that Benji loves it's midgets. Cody Pendleton wants to know if we'd rather be a really short or really tall…. Remember :
1) Normal is relative. 2)"If you get privileges you might as well use them." 3) Little people love Bocce. — Hollywood discovers a fetish he never knew he had. Thanks Imgur. Kevin's granddad was a racists and Max wishes he was a baller. I and U. We're not click-bait. We're jail bait.
***
Topic – Would you rather be 8ft tall or a midget?
From – Cody Pendelton