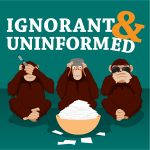 Is it bad there are a lot of creepy erection jokes in an EpiDose about daddy daughter dances? If so – just blame Kevin Alan and his awkward 6th grade boner. Or Mindi Thrash. It was her topic. But first we need to figure out if we're talking about the wedding tradition or the social construct. Remember :
1) Ferengis are Space-Jews. 2) Virgins are not good in bed. 3) There is a proper way way to knock boots in mordor — Max is a terrible bowl-plucker. Benji is a great house-husband. Hollywood takes pictures of other people's children and Kevin is a pro-semite. It's American Beauty, Darcel Jones, and a couple sad sexist truths this week on I and U. "Go on…show 'em the moves daddy taught you."
***
Topic – Daddy daughter dances: creepy or cute?
From – Mindi Thrash