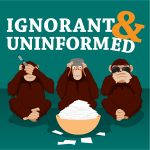 Suck it, Briggs Myers. This week we've got a Beatles personality test thanks to our guest, Kevin Alan. Who cares that he drew this own topic from the bowl? Wanna know why Benji is like Ringo? Or about how the word "yes" began a life-long love? Maybe you're more interested how Darius Rucker became a country singer? Remember :
1) Yoko was a symptom. Not a cause. 2) There is nothing worse than a cold rape shower. 3) Your Beatles nature changes depending on the group you're with. — It's one half music history lesson, one half ruthless judging, and a hundred percent I and U. Are you the fifth number four?
***
Topic – Which Beatle are you?
From – Kevin Alan