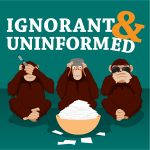 Max's dad, Gary, wants to know what our favorite books are…but not before he forces us to break an in-house rule. It's the first ever topic re-draw. Gasp! Hollywood is married to a wood elf, Benji is like Beetle Bailey, and Max gives some love to Drizzt Do'Urdan. Remember :
1) Weekend at Bernies is a verb. 2) John Grisham novels make lousy musicals. 3) Holden Caulfield is annoying and whiny. — It's everything from Calvin and Hobbs to Fear and Loathing with stops at the Zodiac Killer and Tom Arnold along the way. I and U. We're T-Shirt Blessed.
***
Topic – What is your favorite book and why?
From – Gary Sirak