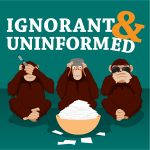 In honor of turning three, we wanted to release an EpiDose that really does the name of the show proud. Thanks to Rekha Roa's questions – which hindu god would you be? – we can. Benji auditions for The Gong Show, Max leaves all his friends behind, and Hollywood's spirit animal in Dumbo. Remember :
1) There is no dignity in a Big Mac. 2) Don't ever mistake a walrus for a sea lion. 3) People are people no matter where they come from. — It's Game Genies for Words With Friends, the secret dork-like of Vin Diesel, and head bobbles this week on I and U. Prepare to get stupider!
***
Topic – Which Hindu God would you be?
From – Rekha Roa