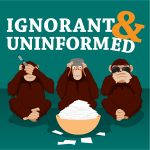 This week Max's father, Gary Sirak, wants to know about holding grudges (all thanks to Akron, OH's favorite prodigal son). Are you like Hollywood and blame Canada? Do you fall more into Benji's camp of no second chances? Maybe you're like Max and prefer to take yours out on fast food chains and athletes you've never met? No matter where you all on the spectrum just remember :
1) Scruffy's gonna die how Scruffy lived. 2) Small snakes are the most dangerous. 3) Surround yourself with positive influences that add something to your life. — It's the problems of success, the hazards of believing our own lies, consumer grudges as the foundation of capitalism, and the sanctity of home all thanks to LeBron James. Thank, LeBron. I and U. Oh, don't worry. We'll sell out.
***
Topic – Do you hold grudges? Why?
From – Gary Sirak