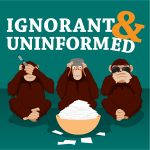 Better an absent host than an absent father. With Benji busy being a dad, the unsinkable Kevin Brown (Alan) come's to the rescue only to get his mind blown…by a dick joke. Funny though, it all started innocent enough with a question from Tom Coyne: Which animated duck is better Daffy, Darkwing, or Donald? But what we really want to know is how come ducks don't wear pants? Remember :
1) Scrooge McDuck had a magic nickel. He wasn't a robber-baron. 2) Everyone loves "entitled and cynical." 3) Mega is cooler than Nega. — It's Drake Mallard vs Methy the Bird vs the Angry One. Max is a Puritan, Hollywood is good at math, and Kevin chooses a Frenchman. Plus, we give an Ignorant and Uninformed shout-out to Jim Cummings, a man you didn't know you loved but probably do, thanks to your childhood. I and U. Did you know that Darkwing Duck lived in the Boy Meets World house?!
***
Topic – Daffy, Darkwing, or Donald – which is the coolest duck?
From – Tom Coyne