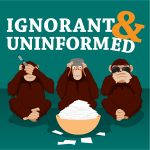 Have you ever been ear-tube-water-boarded? What about being chased around a house that isn't your house by a shadow and escaped outside only to discover that the driveway and the minivan parked in it are covered in bees? No? Hmmm….well, then what sort of recurring dreams have you had? That's what Misty Summer (such an awesome name), friend of the show, wants to know. Remember :
1) Universal Studios hates your creativity. 2) It could have been Lord Darkenon. 3) "Make me a lawn chair so I can fly far, far away from here." — It's Hunter Flagstaff's (Hollywood) first paid acting gig, Mike Western's (Benji) mouth breathing, Eek Gladiola's (Max) defense of The Highlander, and the best Benedict Cumberbatch knock-off porn name you've ever heard…this week on I and U! Ripple us, homie.
***
Topic – Have you ever had a recurring dream? If so, for how long? How often? What does it mean?
From – Misty Summer