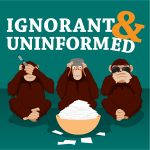 Do you fold, wrap, or crumple? Are wet wipes your go-to? We got a doozy of a topic from Nick Albu and had a lot of fun giving it our best shot, at least for three non-visually impaired guys discussing the implications of blindness in the bathroom. I mean, how do you know when you're done wiping if you can't look at the paper? Remember :
1) It wasn't the towel that have you crabs. 2) Message us your tapas! 3) Don't use leaves. — It's all about man-scaping and the line of demarkation, horror stories from Hollywood's road trippin' youth, Max's failed baby sitting career, and what Benji thinks of when he hears "Oswald Coddlepot." I and U….it's like Denzel fell into a bucket of chocolate!
***
Topic – How do blind people know when to stop wiping their ass?
From – Nick Albu