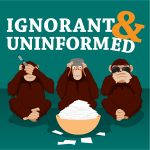 In honor of Hanukkah…
Was it his chubby middle school days? What about his sad Hebrew School story? Maybe it's one of the other 15 reasons that comes up in this epidose featuring good friend of the show, Phil Rohrbacher. Someone wants us to talk about "Max Sux" and by god we give the people what they want. It's the I&U way! Remember :
1) Culture makes it classy. 2) Phil uses his history degree every day to make lots of money. 3) The arts rob you of your intelligence. 4) Happy socks are like tooth paste. — It's what frosted tips and church have in common, Hollywood's lonely early teen years, and what CPA's think when they watch Cocktail this week on Ignorant and Uninformed. *by listening, much like opening the door, you have consented.
***
Topic – Max sux
From – No Name