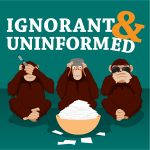 If everyone goes chasing their dreams, then who's going to do the stuff that makes the world work? Sure, none of us enjoy being bossed around by a chest of drawers, but society is in part based on some self-control. We all can't be fully actualized warlords, right? Look, we know it would better to take an active stance, reach our full potential, and live like Jimmy Buffet in the Florida Keyes, but c'mon…Remember :
1) We are where we are because of the decisions we make. 2) Molest-y clowns and whatever a "Grimace" is. 3) Courting strippers like Butters out front of Raisin's never works. It's societal supplementation vs self-oppression, cocaine and whiskey vs. chopping wood and nice dinners, and a moment of silence for a damn fine mustache this week on I&U
***
Topic – What would the world look life if everyone stopped self-oppressing?
From – Outdoor Dave