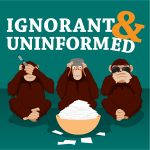 What do air guitar, a dying panda, and the saddest Stephen Hawking birthday party have in common? Probably not much, at least not until I&U gets their dirty little dickbeaters on them. If you could see all time and space, what would you do? Would you suffer from the Cassandra Complex or the Bill and Ted Corollary? What if your choices were between fast-forwarding to Encino Man or rewinding to Shawshank? Remember :
1) The constants of our universe may be unique. 2) You can't control mass perception. Do you think the bible is poetry? Because Hollywood does. Max loves Ben and it's all about pre-determination for Benji. Tune in and step right up to take a spin of Icarus J. Kabobenstein's Tilt O' Whirl of Time Travel…it'll be…something!
***
Topic – If you could see all space and time, would you ignore it?
From – Erika Riely