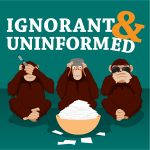 C'mon, we've all see a bunch of Disney movies, right? Well, it turns out Hollywood has (he knows all the words to Frozen) but Max and Benji are pretty useless. Good thing Benji IS a Disney Princess. That makes it way easier when he and the rest of the gang have to choose their favorite. The conversation also includes villains and over-all favorite Disney feature. Did you know the main adversary in Fox and the Hound was segregation? Remember :
1) No stripper has a tattoo of Wendy. 2) "It's Dumbo-scary". Do you know what it's called when you get writer's block on Twitter? Did you know that Megara is the biggest slut-princess of them all? Download or stream and find out which princess, villain, and movie take the cake. (Hint: it might be Mel Gibson)
***
Topic – Which Disney Princess would you be and why?
From – Rachel Zukrow