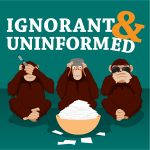 Tana Fox wants to know about the yucky things we've done and it turns out special guests Kevin Alan and Riley Pickens have plenty to say…well…Kevin does at least, Riley doesn't really talk yet. Kevin apologizes to our non-existent fan base. Benji gets Costa-Rican-caught. Hollywood the Corruptor cleans up a boozy night of Strogranoff, and Max is a cold-blooded-Columbus-dog-killer. Remember :
1) Finals at Hogwarts are a b**ch 2) "Mom, can you help me with this enema?" 3) Being digitalized isn't nearly as cool as it sounds. It's milk carton poop, 9/11 break-up calls, post-Halloween-drunken-clown-orgies, and 5th-grade-3rd-base-prom tears. Aren't you just a little curious?
***
Topic – What is the yuckiest thing you've ever done?
From – Tana Fox