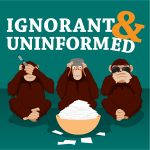 It's a full house in Consensual Studios as Rob "Roll-tide" Williams and Mike Ritzman stop by again and this time it's all about books you lied about reading. Is it bad that the bible was one of the first brought up? Probably not. Do catalogs count as books? What if Brad Pitt played Huckleberry Finn? Is it just "smart" books that people lie about reading? Remember :
1) Yeti-flue isn't contagious. 2) Cowboys, cowboys, cowboys, surprise butt-sex, cowboys, I'm leaving my wife, then one of them dies. Benji gets stuck on 50 Shades of Grey, Max is prog-rock for life, and Hollywood lies more about TV and movies. Ritz divulges the 24 formula and poor Rob tries to keep us on topic. It gets a little loud and laughy but it's a pretty good time….enjoy!
***
Topic – What books do people typically lie about reading?
From – Josh Coates