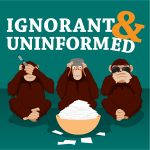 Being Benji's friend has its risks, just ask special guests Rob "Roll-Tide" Williams and Mike Ritzman, who stopped by Consensual Studios to discuss practical joking. Turns out, Benji has gotten everyone in the room at least once. Max reveals his high school vandal past, Hollywood and his buddy, Diabetic Ben, break hearts, and even the hearing impaired aren't spared. Remember :
Road signs are way bigger and heavier than you think they are and caller ID ruined all the fun. It's broken flags, pool balls, lawn ornament fiestas, and sorts of bad things that Benji likes to do to his buddies' cars. Friends like these, right? Tune in and check it our…it's funny and full of useful mean things to do to people!
***
Topic – What are the best pranks you have been a part of?
From – Rachel Zukrow