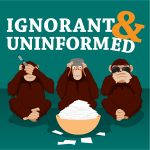 John Schorling sits in and comes out swinging before he OD's on heroin. Benji is taking applications and adopting his own Freedom35 plan. Max puts Hollywood in an oddly appropriate dark mood by yelling and everything they know about the end of the world they learned from Walking Dead and World War Z. That's better than the bible, right? How long does eternal winter last? Remember :
Unless you happen to be Nic Cage, Kevin Kostner, or Keanu Reeves you probably won't make it on your own, and two weeks is not enough time to prepare for long-term subterranean survival. That is why it's called Doomsday Prep. Because after the fact, you ain't gonna be able to do a thing. Shout out to Summit County's own Cook's Welding and Dawson (John's hero).
***
Topic – Short term/long term apocalypse survival guide?
From – No Name