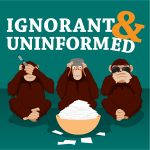 Everyone spends time taking a crap. No matter how quick or slow you go those are valuable entertainment minutes that are passing you by. Special guest Tim prefers word searches. Hollywood likes movie trailers. Benji plays so many games on his phone his legs go numb. Max still lives in the 20th Century and reads books. Remember :
Always mute your phone before flushing if your pooping and chatting. Ever wondered why Hollywood cries when he masturbates? Speaking of spanking, isn't it a little creepy when you're in a bathroom and there's a Penthouse or a Playboy sitting out? Is Playboy even porn anymore? Either way, who still uses magazines? Thanks Internet. Bonus question – how many times has Benji been "saved" for a girl?
***
Topic – What is your bathroom reading?
From – Tanya Cohen