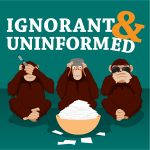 Special guest John Schorling stops by to dispel some popular misconceptions about the War of 1812. Hollywood's nationalistic tendencies get the best of him then he chooses Ben Affleck. Hear Benji's reason for drinking black tea and his goats-for-cats plan while Max kicks it ancient-school. Did you know that cotton bales were the original Kevlar?
Africa is like the stupid kid who the nerdy kid tries to get to play football, smart people stay in the back, and imperialism is just a fancy word for rape. Things get pretty dark (especially with the power out) but luckily Consensual Studio's pet bird saves the day!
***
Topic – If you could live through one war without actually fighting in it which would you choose?
From – Tana Fox