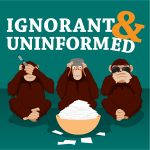 In honor of the first day of this year's Bonnaroo – when is the last time you actually listened to a whole album? Chances are you're probably like Benji and live your life on shuffle, unless you're a Hollywood kinda guy and rock show tunes. Better than Max's crush on 1996 Fiona Apple, right? Remember :
We didn't choose thug-life. It chose us. Hear Benji's solid Biggie-Pac theory and reminisce about a simpler time when Michael Franti was still cool. Those were days. Oh, and don't forget to bring your cigarettes, vodka, Sum41, and weed when you come kick it with us in the talent ghetto. Holla!
***
Topic – What is one album you could listen to on repeat and never get sick of? Why?
From – Gabby